How To Hack A Webcam On A Mac
Two researchers have found a way to disable the green light on your Mac laptop that lets you know when the built-in camera is active, giving hackers a potential way to spy on you remotely. In this tutorial, I am going to teach you how to exploit a Mac's webcam remotely with an application called Imagesnap. Prerequisites: 1. Your victim's admini. On the other hand, you might be the one who believes to be hacked, and you want to know if you are in real danger. Look no further, here we will tell you the ultimate truth about what happens after you hack IP addresses. Hack IP addresses to scare people. A lot of self-proclaimed hackers hack IP addresses just to scare people. They contact the.
You need to know that in todays age it is pretty easy for hackers to hack your webcam so you need to make sure you are safe. Better yet covering your camera or webcam is even better. So, we are going to step through exactly how hackers do this in various ways below so you can defend yourself. In addition, hackinga webcam is illegal and immoral so don't do it unless you have permission like performing a pentest for example or tying it out on your own camera to see if you are vulnerable.
Now that we know he/she has a webcam, we can take a snapshot from the webcam by typing: meterpreter webcamsnap The system will now save a snapshot from her webcam onto our system in the directory /opt/framework3/msf3, which we can open and see what's going on. The quality of the image saved all depends on your victim's webcam and surroundings.
Webcams come pre-integrated in modern day laptops & smart phones, they are also sold separately and can be used with PCs using a USB dongle. In smart homes or commercial markets, Webcams are used in Internet of Things (IoTs) for monitoring purposes. Webcams play an important role in someone's security and privacy and if not configured properly, they can be easily hacked. Here we'll look at some scenarios which can be used to hijack your webcams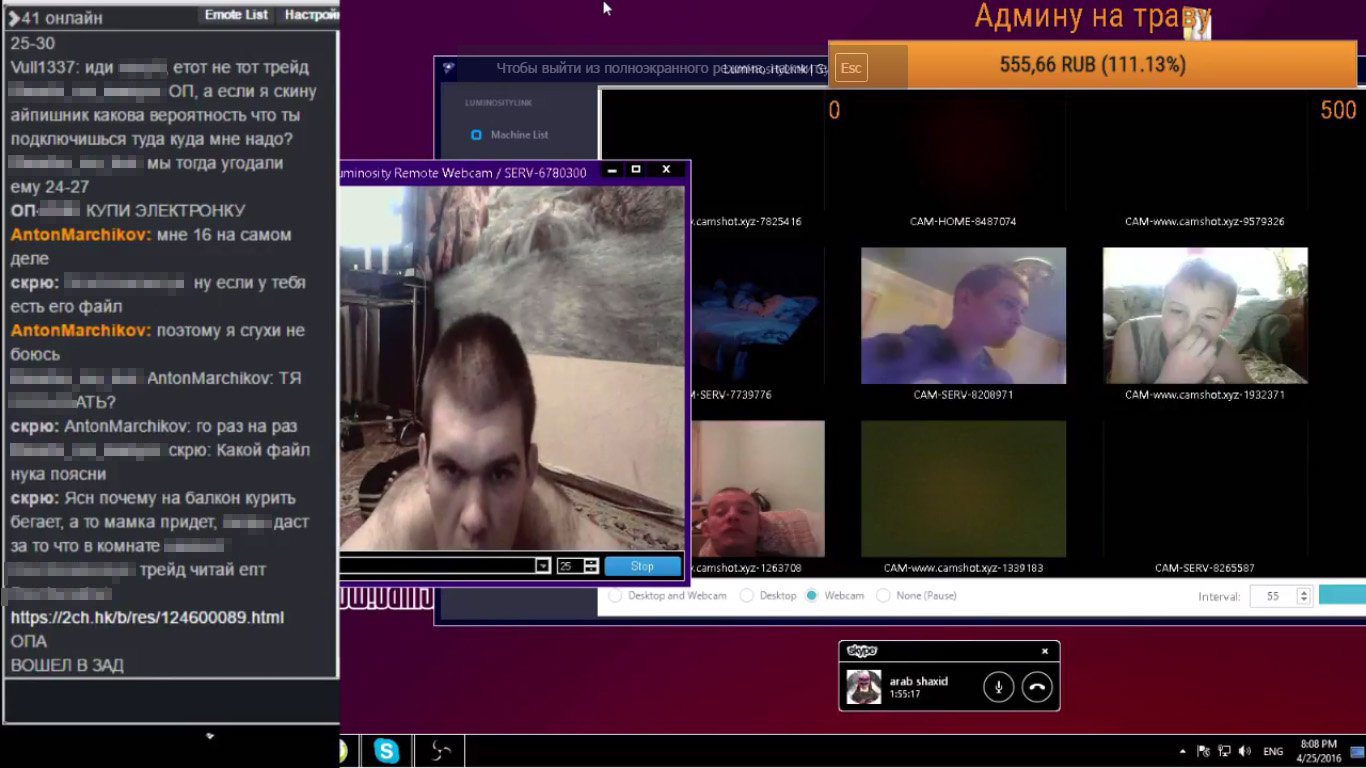 Scenario 1 – Using Spyware Software to hack a webcam
There are number of methods that hackers use to hack webcams. Some common methods include hiding malicious code into innocent file (exe, document, image), once this innocent-looking file is opened it will grant the full access of your computer to the attacker. Remote Administration Tools (RATs), Trojans and other custom malwares are easily available on the internet. These malwares can be misused to remotely control someone else's Personal Computer to watch through their webcams.
Here we'll take a quick look at how we can make our own Trojan and embed it with some common software and then use it to monitor someone remotely. The easiest way is to use Metasploit on Kali Linux (You can also do this in Windows and other Linux distros). We'll use "msfvenom" (A Metasploit's utility) to generate backdoor payload and embed it with legitimate "VLC Media Player" exe file. Make sure you're using Kali Linux or have Metasploit Framework installed in your system.
First of all, locate your VLC exe installer file in terminal
Now use "msfvenom" generate and embed backdoor into VLC exe file.
Payload has been generated, locate it and transfer it to the victim
Now start Metasploit's multi handler, set payload and wait for the victim to install the backdoored software.
If you type help in Meterpreter session, it'll show the list of available commands that you can run on victim's PC.
There are couple of other commands that you can use to record mic or webcam video.
Scenario 2 – How To Hack A Webcam Using Vulnerable IoT webcams
People use cameras in their smart homes and commercial places and leave them improperly configured with their default usernames and passwords. These vulnerable devices connected to the internet are very insecure and can be easily hacked with available exploits or default credentials. There are thousands of vulnerable devices that are affected from number of vulnerabilities and memory leaks exploits and they can be found on the internet or can be searched by search engines like Shodan (shodan.io – Hackers' search engine). A list of vulnerable webcams can be found here.
To check it out by yourself, go to www.shodan.io and search "webcamxp"
There are a lot of webcams open, choose anyone you want.
There are other methods which can be used, like hooking browser with BeEF and accessing webcam through the browsers etc.
How to defend yourself
The best strategy is to unplug or cover up your webcam and microphone with a tape after video calls and uncover it only when you need it, you can also buy a webcam cover under $10. Famous tech celebrities use to cover up their webcams including Mark Zuckerberg and Edward Snowden. In below picture, you can see webcam and mic are covered with tape
The second thing you should do is to install a good antivirus and anti-malware software solution. Also don't open and click on malicious links or files, change your devices' passwords regularly. For IoT based webcams, don't buy outdated devices and don't expose them directly to the internet.
If you ever wonderedhow to see other people's snapchat history or how to hack someone's phone camera remotely, your search ends here. With this article, let's talk about the practical methods of hacking a phone camera.
As a matter of fact, hacking into someone's phone camera seems an illegal and unethical move. If you hack into a stranger's phone, it is a violation of privacy for sure. However, there are some instances where hacking becomes justifiable. For instance, picture a situation where you suspect your teenage daughter is engaged in some inappropriate business. By hacking into her phone, you can get a clear idea about her behavior. Also, such an approach can be handy if you need to learn what your spouse does in your absence. In addition to that, there can be few other instances in which unauthorized access can be justifiable. With that said, if you wonder how to hack someone's phone camera remotely, you will need some preparation.
To hack a phone remotely, you will need the assistance of a powerful spying tool. With the rest of the contents, we intend to emphasize the best methods to hack a phone camera. Parallels for mac vs vmware pro.
If you wish to find out Best Spy Watches with Hidden Camera, How to hack an iPhone remotely & hack a Samsung phone remotely, just click to continue reading.
Part 2: Use KidsGuard to hack someone's smartphone
Hacking into someone through the camera integrated to phone
Part 1: How to hack someone's phone camera remotely through IP webcam
Every smartphone comes with a very sophisticated camera these days. Apart from taking photos or capturing videos, the phone camera can also be used for spying. That means, if you can access a particular smartphone's camera, you can easily have an idea about its surrounding. However, to do that, you will need the assistance of a good spying app. This is when an app like IP Webcam comes to play. In order to hack into the camera, you should first Install IP Webcam. Then, you should follow the steps mentioned below to hack into the target smartphone.
1) Go to Google Play Store on the Android device you intend to hack. Then, you should download and install the app labeled IP Webcam on the device. At the completion of the installation, you should launch the app and scroll down and locate "Start Server". Tap on this option and start the live streaming.

2) Now, you will be able to see an IP address on the screen. It is found at the bottom of the screen. You should note this IP address down. Open a web browser on your computer or device and enter this IP address. Then, hit "Enter" to visit the IP address. Then, you will be directed to the camera of the smartphone you are targeting.

3) Choose the option labeled "Browser" on the dashboard to view the live streaming option. You can go to the dashboard and change the camera (from rear to front) as well. You should also remember that you can hide IP Webcam app on the target device. The user of the target device will not be able to see IP camera operating. To do that, you should select the option "Run in Background". Then, tap on the option "OK I Get it!" from the next window.
Part 2: Use KidsGuard to hack someone's smartphone
If you wonder how to hack someone's phone camera remotely using a professional tool, use KidsGuard Pro. This special tool lets you monitor all the activities related to the target device. Compared to the previous method, KidsGuard lets you experience more sophisticated tools. In fact, KidsGuard comes with a variety of features to stand out as a very powerful spying tool.
KidsGuard can access pretty much all the activities related to the target smart device. Apart from accessing its camera, KidsGuard can access call logs, SMS, browsing history and app related activities. It can even track social media activities on the target device. Real-time GPS location tracking is another impressive feature associated with this tool. Through this feature, you can easily track the whereabouts of the target. More importantly, you can access all those features through a remote dashboard that is accessible via a web browser. If you are a concerned parent, KidsGuard must be a great tool to have. Now, in this section, let's see how to hack someone's phone camera remotely.
1) Go to KidsGuard official website and register for a subscription plan to match your budget.

2) If you are planning to monitor an iOS device, you can start simply with the iCloud ID. However, if your target is an Android device, you should install an APK on it. After signing up, you can see the onscreen instructions about the installation process of the app. Basically, installation is a straightforward process with KidsGuard.

3) At the completion of the installation, you can log into your online dashboard. This dashboard can be accessed through any web browser.

If you need to keep your kids away from potential dangers, software like KidsGuard can be very handy. When it comes to software like KidsGuard, the features are many.
Here are some of the features associated with KidsGuard (in addition to hacking into the camera)
The best Facebook Spy tool works on stealth mode and runs in the background
It can access all the SMS that are inbound and outbound
And it can monitor all the app related data on the device, it hacks someone's Instagram account, let you listen to the surrounding of someone's phone.
KidsGuard can seamlessly monitor the social media behavior of the target user
It can access videos and images stored
It can monitor internet browsing history as well
By looking at the features above, you can see how handy it would be for a parent.
Part 3: How to hack someone's phone camera remotely using GuestSpy?
GuestSpy is another impressive software you can use to spy on the camera remotely. With the assistance of this software – Full GuestSpy review, you can easily keep your kids away from potential dangers. Now, let's take a look at on how to hack someone's phone camera remotely using GuestSpy.
Go to GuestSpy online portal and log in
Select the type of data from the left sidebar
You can choose remCam to launch the menu
Click on the camera button (top right) and access the remote spy camera app
When the camera of the target phone is not in use, GuestSpy will take the photos. One photo from front camera and the other one from the rear camera.
The software will then update the images whenever the target device is connected to the internet
Once you get the images through the internet, you can right-click on it and save the images
Download the photos into the computer and have them secured as evidence
Hacking into someone through the camera integrated to phone
Generally, hacking is a process in which you access someone's device or network without the concern of the owner. The camera of the mobile phone is generally hacked to accomplish two different tasks.
The hacker intends to access the personal files (your personal videos and photos)
The hacker means no harm but needs to play with your privacy
To determine whether your camera is hacked or not, you can do the following. Launch the camera and focus it on different objects or locations. Then, wait for the focus to take place. If the camera has a delayed focus, there is a possibility for your camera to be hacked. In order to stay away from such threats, you must be careful when installing apps on your device. If an app requests permission to access your camera, closely determine if it really needs such permission.
How To Hack A Webcam On Mac
How to stay away from potential hacking threats
How To Hack A Webcam On A Mac
Here are some of the important things you should remember in order to stay away from hacking threats.
How To Hack A Macbook Webcam
Go through the list of apps installed and check if there are malicious apps
Determine if your smartphone has any third-party apps running as a background process
Check whether there is any unwanted or malicious background process that is running that could be using your camera.
Be sure to rely on the apps that are available on Play Store only
Don't root your Android device as it will make it more vulnerable to threats
If you suspect that there is a malware installed on your device, you can perform a factory reset
Now that you know how to hack someone's phone camera remotely, use those methods carefully. Don't use any of those methods to interfere with someone else's privacy. Instead, be sure to use these methods solely to protect your kids from danger.